OIL SEALS
Over 20,000 Tools
Technical Support
Low Cost Tooling
Over 150 Compounds
Large Diameter Seals
Pressure Seals
PTFE Lip Seals
Transmission Seals
Power Steering Seals
Agriculture Seals
WPB Wipers
OIL SEAL RELATED PRODUCTS
Valve Stem Seals
V Rings
Gamma Rings (R and 9R designs)
Wear Sleeves
CUSTOM MOLDING
Speed to Market Program
Standard and Special Compounds
O-RINGS
Standard 568-A Series
Metric Series
JIS B 2401 Series G, P, S, V
X Ring Design
Special Size and Cross Sections
Standard and Special Compounds
RUBBER TO METAL
Bonded Seals
Self Centering Seals
Thread Seals
Rubber to Metal Gaskets
Reverse Engineering
SPECIAL PRODUCTS
Machined PTFE, Filled/Unfilled
Gaskets
Kitting (OEM/Aftermarket)
Injected Molded Plastic Parts
Urethane Molded Products
Tobar, Inc. has provided oil seals to our customers for over 30 years.  As we help you develop products, we encourage and support testing of our oil seals. Depending on the application, we have the ability to work with our factory/partner to set up customer specific tests. These tests combined with past tests completed by Tobar will help you select the correct compound and lip design for your application. An additional value is our oil seal investigation team. This team has the tools and knowledge for problem solving and or making recommendations that will meet your performance needs.
Tobar oil seals are in many Fortune 500 products, as well as high quality after market applications. We are fortunate to have several strategically placed premier distributors who represent Tobar oil seal products. We invite you to click on the links to the right, visit our facility for a first hand look at our systems, and best of all inquire for more information about our oil seals.
Our internal quality and technical support systems are able to meet the most stringent OEM and PPAP standards.  As a high volume supplier we are able to provide high quality, competitively priced seals that are delivered on time.
For more information click on the list to the right, come visit our facility or give us a call.
At Tobar, we simply do what we say we'll do.
We have pictured some examples of custom molded products as examples of what we are able to help you with. Our custom molded business builds on low cost tooling, competitive pricing, superior products, and customer satisfaction in all areas. We are all proud to say, "Relax you are in for a smooth ride with Tobar".
Tobar and our global manufacturers have supplied world class rubber bonded to metal products since 1987. We have the capability and experience to help our customers evaluate types of metals, elastomers, bonding agents, and bonding methods as the seal is developed for production or aftermarket requirements.
Tobar "in house" development laboratory is supported by our technical laboratory including our FTIR and non contact inspection equipment. As samples are submitted through our detailed ISIR submittal or as part of an on going PPAP process we strongly recommend rubber bonded to metal product be completely tested and approved by our customer before production release.
The 600 and 2000 series show some of the rubber bonded to metal products we are capable of supplying. These products may require complex tooling, longer than average lead times, and thus, an emphasis on creating the right product the first time. We encourage you to let us help you with your next rubber bonded to metal application, so you to can, "Relax you are in for a smooth ride with Tobar".
Valve Stem Seals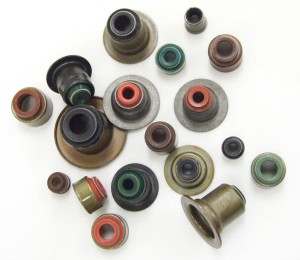 The Valve-Stem Seal is a finely engineered complex combination of sealing and controlled metering. Meeting the performance needs takes a combination of correct materials, metering rates, lip design, lip tolerances, concentricity, vacuum and or pressure controls, along with any specific customer requirements.
Tobar, Inc, and our supplier/partner have developed equipment for "in house testing". Thus, for seals we supply we are capable of testing to general requirements and to our customer's specifications.
If you are an OEM manufacture Tobar can help you with initial development, prototype samples, and production requirements. In the aftermarket area we have hundreds of currently tooled items we can supply, or tool specifically to your needs.
To complement our major sealing products, we also supply:
Lathe Cuts
Gaskets
Phenolic Parts
Extrusions
Leather Components
Machined PTFE
Injected Molded Plastic
Urethane Shapes and Seals
Metal Stampings
Please contact us for more information.